---
Bulletins HUNA Research Associates 1948-1970
---
Max Freedom Long, Huna Bulletins, Trilogy, English
Max Freedom Long (1890-1971) was the first who made the Polynesian HUNA Lore available to the Western World.
1945 he founded the Huna Fellowship and, from 1948 to 1970 he sent monthly Bulletins to the Huna Research Associates (HRA).
These are the 3 books of the Trilogy of the HRA and Huna Vistas Bulletins in English language, published by Monika Petry, German Huna Student,
Teacher and Healer.
---
Vol. 1-5 (1948-1952), 932 Pages, Hardcover, Format: 17/24 cm, 89,90 €  - ISBN 978-3-7418-1780-9
Vol. 6-11 (1953-1962), 848 Pages, Hardcover, Format: 17/24 cm, 84,90 €  - ISBN 978-3-7418-1782-3
Vol. 12-16 (1963-1970), 904 Pages, Hardcover, Format: 17/24 cm, 89,90 €  - ISBN 978-3-7418-1790-8
---
Max Freedom Long, HUNA Bulletins, Softcover, English
Vol. 1-3 (1948-1950), 480 Seiten, Softcover  - ISBN 978-3-7418-1502-7
Vol. 4-5 (1951-1952), 552 Seiten, Softcover  - ISBN 9783741815041
Vol. 6-7 (1953-1954), 208 Seiten, Softcover - ISBN 978-3-7418-1529-4
Vol. 8 (1955-1957), 164 Seiten, Softcover - ISBN 978-3-7418-1536-2
Vol. 9 – 11 (1959 – 1962), 524 Seiten, Softcover - ISBN 978-3-7418-1580-5
Vol 12 – 14 (1963 – 1966), 468 Seiten,  Softcover - ISBN 978-3-7418-1582-9
Vol 15 – 16 (1967 – 1970), 476 Seiten, Softcover - ISBN 978-3-7418-1583-6
---
Teaching HUNA to the Children - How Everthing was made
Excerpt from the Huna Vistas Bulletins
Max Freedom Long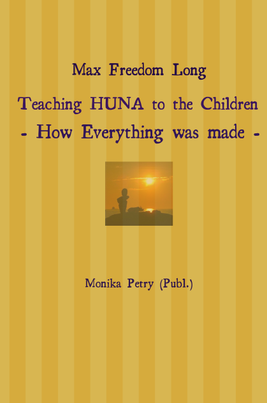 Published on 04.07.2016, Format: Paperback, 136 Pages, Language: Englisch
Softcover: ISBN: 978-3-7418-2956-7 - Hardcover: ISBN: 978-3-7418-2957-4  
---
HUNA in the Kabala & Tarot
Excerpts from the HUNA Vistas Bulletins
Max Freedom Long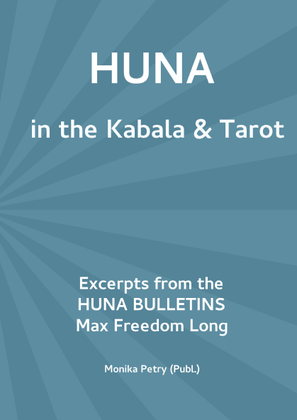 Published on 04.07.2016, Format: DIN A5, 264 Pages, Englisch
Softcover, ISBN: 978-3-7418-2942-0  -  Hardcover, ISBN: 978-3-7418-2943-7